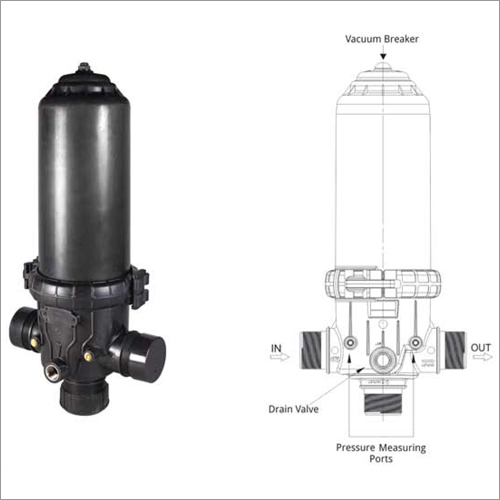 Disc & Screen Filter
Product Description
With a vision to be a leader in our domain, we supply premium quality of Disc & Screen Filter. It is made up of rigid and flexible raw material under the vigilance of experienced engineers. This filter is extensively used in irrigation systems to filter water to make it free from sand and other solid fine particles. It also finds its application in different industrial domains for various purposes. Offered Disc & Screen Filter is available in the number of specifications and at competitive prices for our trusted customers.
Features:
Ability to trap micro-particles

Durable nature

Abrasion and crack resistant
Other Details:

The filter cartridge has a stacked dick structure with the discs or rings stacked together that facilitates three dimensional filtration. This ensures impurities and contaminants get properly trapped, giving it an excellent particle retention rate.
Flow of the coarser particles are hindered in the element surface itself whereas the smaller sized particles get retained in the grooves present in the discs. Therefore, another advantage is that these filters do not require periodic cleaning.
Quick installation is guaranteed in both vertical as well as horizontal positions. Additionally, both inline & angular orientation can be done in inlet-outlet connection.
A simple drain valve is installed for efficiently flushing contaminants and impurities trapped on the superficial element surface.
Not only the filtration quality, but also the construction of the product is at par with international quality because of the use of high endurance and rust resistant polypropylene materials for making the body. Plastic and metal components used are also of the best available variety and are impervious to the attack of agricultural chemicals fertilizers.
High quality flushing agents provided with the system

Application:

Providing minimal water loss, these are suitable for use in micro irrigation systems of 130 microns approx. in the field of agriculture, sericulture, horticulture, etc. High filtration performance at low cost also makes these ideal for use in general industrial as well as many domestic applications.

Disc & Screen Filter
Technical Specifications

| | | | | |
| --- | --- | --- | --- | --- |
| CODE | SIZE | SHAPE | TYPE | FLOW RATE |
| DF 200 | 2" | T | Disc | 25m3/h |
| DF 250 | 2 1/2" | T | Disc | 40m3/h |
| DF 300 | 3" | T | Disc | 50m3/h |
| SF 200 | 2" | T | Screen | 25m3/h |
| SF 250 | 2 1/2" | T | Screen | 40m3/h |
| SF 300 | 3" | T | Screen | 50m3/h |