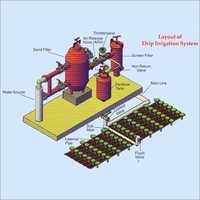 Drip Irrigation System
Product Description
With a vision to be at the top in our domain, we are engaged in the business of supplying Drip Irrigation System. It is a type of micro-irrigation system which has the ability to save water and nutrients by slowly dripping water into the roots of the plants. Offered Drip Irrigation System is precisely manufactured and installed by proficient engineers to increase its efficiency. This system comprised of a network of pipes, valves, emitters, and tubing. It is a widely used irrigation method in numerous farms, residential gardens, and commercial greenhouses.
Features:
Minimal loss of nutrients and fertilizers

Decrease weed growth

Uniform water distribution
Drip Irrigation System
Drip Irrigation System, also known as Micro Irrigation, has gained ground in recent years, thanks to the many advantages it offers as compared to other conventional irrigation systems. This controlled irrigation system is chosen over other systems as it has the capability of increasing the yield with minimum water use. Water and fertilizer consumption and even labor associated with the irrigation procedure are decreased to a minimum, when such irrigation systems are properly managed and employed.

In addition to reducing runoff and water evaporation, the following characteristics distinguish Mirco Irrigation from other pressurized technologies:

Reduced flow rate
Localized wetting of the soil profile and volume
Water application happens frequently because of the limited wetted volume
Operating pressure is comparatively lower than sprinkler irrigation

Drip Irrigation is a special technology irrigation system that ensures effective delivery of water to the root zone. The process of water delivery is done via emitters that control a network of pipes, valves and tubes. Emitting devices used for this irrigation procedure many be in the form of drippers, micro or mini sprinklers, fan jets, micro sprayers & jets, foggers, misters, etc. These emitters are so designed that they can regulate the water flow at prescribed rates. The particular kind of emitting system used is dependent on the specific application and the type of crop harvested. Age of plant spacing, the exact soil type, water quality & water availability are other factors based on which one needs to select the right type of emitter for the process.