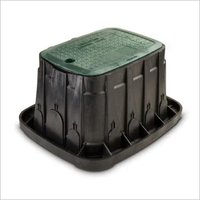 Rain Rectangular Valve Boxes
Product Description
With a vision to be a pioneer in our domain, we deal in optimum quality of Rain Rectangular Valve Boxes. These rectangular shaped boxes are made up of excellent quality propylene material under the guidance of experienced professionals. Rain Rectangular Valve Boxes are widely used in the agricultural sector for irrigation and water sprinkling purposes. They are high in demand due to their high class performance and long lasting operational life. We offer these boxes in different dimensions and at reasonable prices for our customers.
Features:
Easy to maintain

Tight seal
Rain Rectangular Valve Boxes

Made with an expert fusion of strength and functional reliability for special use in the irrigation field, these well designed Valve Boxes from Rain are fitted with an "EzOpen" handle. The opening mechanism of this patented product is simple where the handle in the lid needs to be simply lifted & pulled out for opening these boxes. An additional security measure is provided in the form of a robustly built anti vandal bolt.

The boxes also come with specially designed model brackets inside that helps in quick wire installation for fitting the Rain Evo battery controller.

Sizes available are rectangular 12 In. (Standard) & 20 In. (Jumbo).

Rain Rectangular Valve Boxes

PZRM 113 12 IN: 520x400x300 mm
PZRM 115 20 IN: 670x490x330 mm
Material: 100% polypropylene
UNIEN 124 A class A 15 (Peak load > 15Kn)