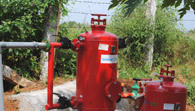 Send Filter
Product Description
We are one of the fastest growing companies engaged in supplying of high quality Sand Filter. It is made up premium grade alloy metals in compliance with set industry norms and is designed with an inlet, an outlet, injector and a flushing funnel. This filter is used to remove solid particles including sand, organic pollutants and various pathogens from water. Sand Filter is extensively used in different industrial domains and agricultural sector. We offer this filter in customizable configurations and at competitive prices to our client.
Features:
Strong and precise construction

Durable and long lasting nature

Highly efficient
Sand Filters:

These are mainly used in the form of a primary filter that can effectively filter and eliminate various particulates, such as, organic impurities, algae and even super fine suspended particles.
Filter media used in these filters is silica sand or quartz (grade 2-3 mm).
A well designed body carved out of mild steel that also gives it good corrosion resistance.
The provision made is such that the incoming raw water gets evenly distributed over the media bed, leading to effective filtration & backwash.
Pressure testing ports are provided, both at the inlet & outlet.
Can be easily opened for cleaning
Inlet/outlet size and filtering capacity offered can vary from 10,20,30 to 40 m3/hr.